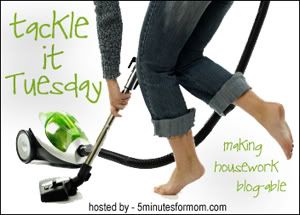 This is my first Tackle It Tuesday and if you remember, I did my first Works for Me Wednesday, just last week. I've been a reader of these memes for some time, but really nothing more than a bystander. I'm always in awe of all the things these bloggers accomplish, so many great ideas - such a great platform to share. I love it. Well, I've finally gotten the courage to do my own posts about what I'm 'tackling' and what's 'working' for me.
I've been slowly but surely finding the means to get back to basics. I'll be using these platforms to chronicle my progress. And solicit your advice as not everything I tackle... will be working for me.
This week is a prime example. My first sewing project.
Find a pattern, size your children, cut out your pattern.
I am trying a simple nightgown for the girls.
Sew the shoulder seam, easy. Sew the side seam, easy.
Sew the bottom hem, easy.
Sew the neck and armpit holes... NOT SEW EASY!
I got so frustrated. First of all, the hem is a lot smaller and more difficult to fold under for a clean seam... let alone sew it on the machine.
Worse yet, it is almost too small! When I sized all three of my children, their measurements came out to a size 4 according to the pattern. Size 5 should fit just right, so the next one will be a size 6 so they have room to grow. Maybe I should go bigger?
This exploration project took me an afternoon. Considering I haven't sewn anything from a pattern like this or anything for that matter since Junior High Home Ec class, I guess I did alright.
However, any ideas on how to make the armpit and neck holes less frustrating? Otherwise we'll be sewing square ones from now on! ;)
What are you tackling this week? Head on over to 5 Minutes For Mom to get some inspiration or share your own!